Product Description
White LED DRL With Amber Turn Signals
CLICK IMAGE FOR ANIMATION DEMONSTRATING COLOR CHANGE
Add our Halo DRLs (daytime running lights) to your bike, and the 24 white incandescent LEDs will provide clear visibility for an evening or nighttime ride. Activate your bike's turn signal, and these 24 white LEDs will blink and shift to amber.
Installing our Halo LEDs is easy—simply remove the stock bulb from your turn signal housing and replace with your new LEDs. No extra wiring required. Lenses are not included.
The pictures represent the lights look and an 1157 dual function base without the mounting tabs.
If you are replacing stock bulbs on an older bike (pre-2014), a load equalizer may be necessary in order to maintain stock flashing speed and avoid an error code on your dash (red key symbol).  LOAD RESISTORS HERE
Choose turn signal style:

Our Halo LEDs Are Available for 3 Types of Turn Signals:
Bullet style pair 9500-58 (turn signal housing has snap-in lenses):
Flat style pair 9510-58 (turn signal housing has a lens with two screws to hold it in place):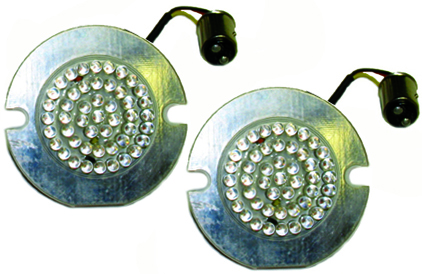 JAE style pair 9500-58J fits CVO models 2016 and newer